Zipper Pulls
We have 5,000 zipper pulls that we want to get out to the ringette community.
We hope that when others see ringette players wearing these zipper pulls it will start a conversation about the sport and will in the end encourage others to try the sport.
We are asking you to please ask your child's coach or manager to send an email to questions@nationalringetteschool.com giving us his or her mailing address and the number of players on the team.  We will then mail out that number of zipper pulls to the coach to hand them out to the players on the team.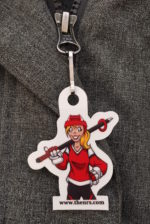 Click image to enlarge