This page contains our 2021 Plan, 2021 Pricing and links to Camp Locations.  Once you click on these Camp Locations you will be able to see what groups will look like as they stand today (Feb 14, 2021).
Note: You will not be able to register for a camp until Monday, Feb 15th at 10:00amMST.
Our 2021 Plan:
How the summer of 2021 will look is unknown. We are truly hopeful that we will be permitted to run camps this summer. We believe that there are many families and children that are longing to be back on the ice and back with their friends. This being said, the National Ringette School will be following all municipal, provincial and federal government regulations. Therefore, we will be providing further instructions on procedures for attending camps once we are closer to those camp dates, as there will likely be some differences in how camps operate based on their location.
Our 2021 groups will be smaller than in the past. Previous years our groups were capped at 30 skaters and 4 goalies. This summer we will have a maximum of 25 athletes (23 players and 2 goalies) and up to 5 staff per group.  These smaller groups will allow us to maintain a 30 person cohort, as this number was used in many locations as part of the previous restrictions. If the restrictions allow for larger cohorts then we will approach those on the waitlist.
Additionally, at our 5 day camps, we are increasing the amount of ice times (at most locations) to 15 ice times per group. Each group will receive 3 ice times a day. What is exactly covered will vary based on the age group.  However, in general the ice times will incorporate the following:
First ice time will be high intensity and team centered:

Skating,
Ring touches,
Competitive drills, and
Game sense;

Second ice time will focus on more individual skills:

Shooting and passing accuracy and power,
Ring handling,
Skating agility and edgework;

Third ice time will be a split ice focused on strategy for one portion and controlled scrimmaging for the other. An example of the strategies that will be covered are:

Defensive triangle and channeling,
Breakouts,
Finding open ice to receive a pass,
Defending your opponents goalie ring,
Offensive zone plays, and
Goalie ring options.
For the off ice portion of camp we will be doing team building activities, as well as mental training and strategy sessions. We are adding more activities that allow for greater space between athletes, as well as elements of cross-training. For example: yoga, soccer, juggling, etc. Stay tuned!
A Backup Plan: We are also developing a secondary plan in the event that we are permitted to run only the on ice portion of camp. We realize that this scenario would be far from ideal and that it may prevent some families from participating as they may require full day childcare. However, we believe it is prudent to have this plan in place as well. If it comes to this situation parents will be given the choice to keep their child enrolled or to withdraw.
2021 Pricing
The majority of our 5-day full day camps will cost $455 + $45 Administration Fee + taxes per participant.    An Administration Fee is applied to each order.  Therefore, if a family is registering two or more participants this fee is only applied once.  Goalies receive a 50% discount: $227.50 + $45 Administration Fee + taxes.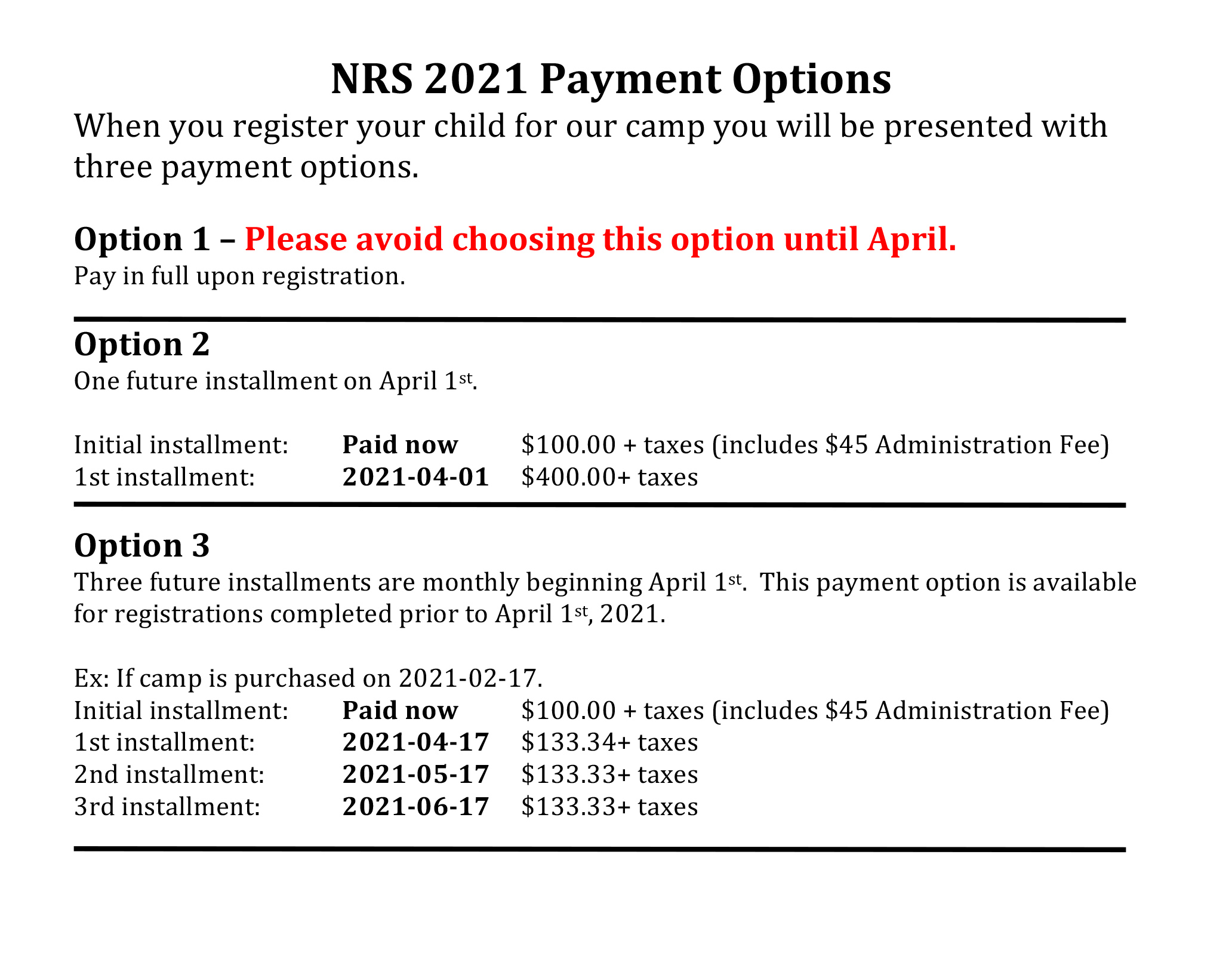 Payment Plan Option information: click here
Our Policies including Refund Policy: click here
For Registration And More 2021 Camp Information
Click on your provincial button
Please contact us at questions@nationalringetteschool.com or 403-284-5161 if you have any questions.