Welcome to National Ringette School!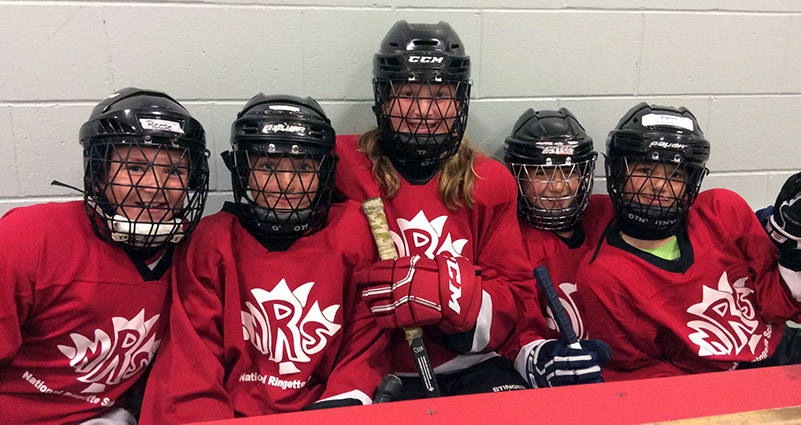 February 12, 2021
Use this link to learn more about our camp plans, locations and pricing:
http://nationalringetteschool.com/2021-programs
February 11, 2021
Hi Parents,
We have hit a glitch with our email system.  Unfortunately, it only sent an email to a small portion of our customers to alert them to the registration opening.  Therefore, we will delay the registration opening until Monday, Feb 15th 10:00amMST/ 12:00pmEST. 
Thank you for your patience and understanding!
February 9, 2021
We will open for registration on Friday, Feb 12 at 10:00amMST.
February 4, 2021
The image below provides a breakdown of where we hope to be this summer.  Please note that changes to dates and locations may still occur. 
Next week, we will open for registration at locations where confirmation of bookings has occurred.  Locations where we are unable to open registration will have a mailing list option.  Those that express interest in the camp will receive a direct email once registration for that camp goes live.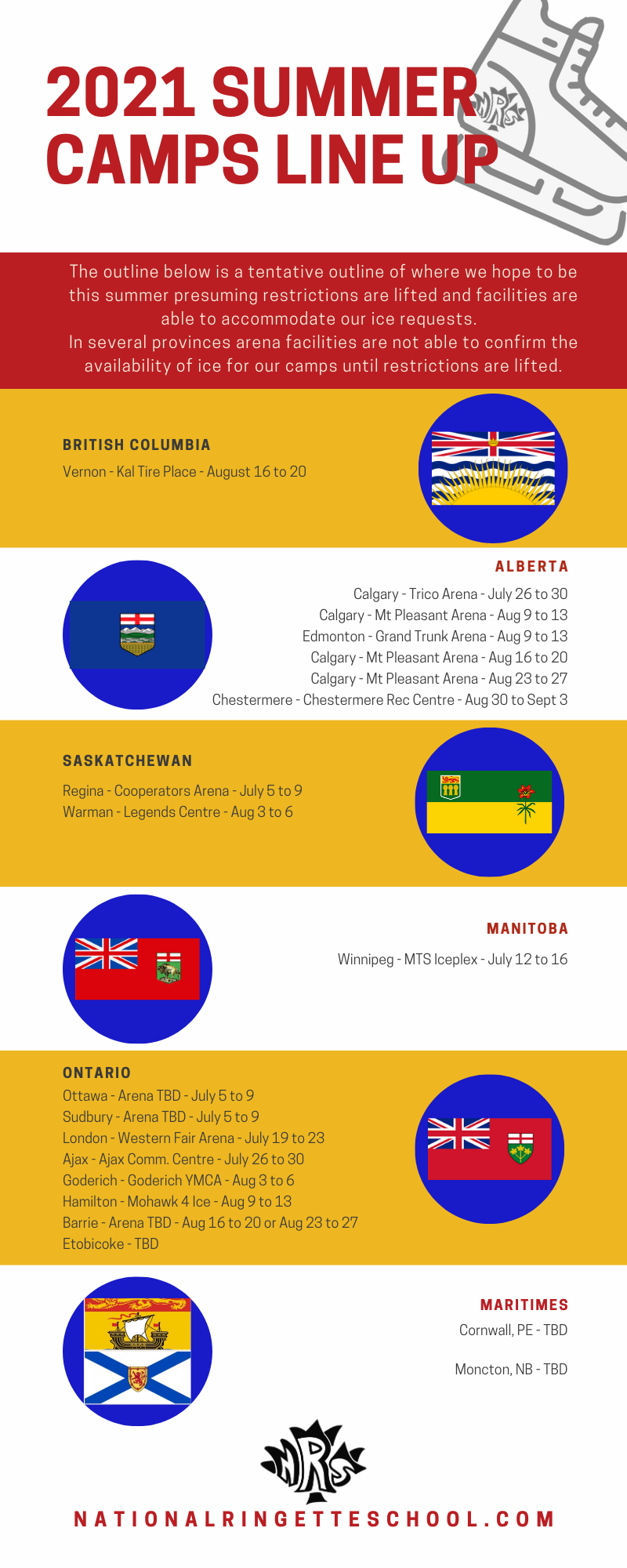 It is imperative that EVERYONE planning on attending a camp this summer understands that given the nature of Covid that camps may be cancelled at any time.  This could be due to a number of factors including government regulations and restrictions, or a facility being unable to provide ice.   
January 10, 2021
2021 here we come!  We are excited to let you know that we are working hard to get facilities confirmed so that we can open our registration.  We know that your summers involve lots of planning and are hoping to allow for that to happen as soon as possible.
If you do not follow us on Facebook or Instagram we suggest doing so as we will be sending out updates that way as they become available.
Please don't hesitate to let us know if you have any questions.
December 11, 2020 – Bring On 2021!
What does the Summer of 2021 look like?  That's the question that has been weighing on our minds a lot lately.  As such we wanted to provide a brief update:
We are working with facilities to secure ice for summer camps. Our hope is to be able to launch registration for camps by the end of January.

Many facilities are currently shut down, or running at a limited capacity, therefore we've been asked to wait until they can be certain of their summer plans.

Our plan is to return to most locations that we had announced for 2020: Ajax, Barrie, Calgary, Central AB, Cornwall, Edmonton, Goderich, Hamilton, Indus, London, Moncton, Ottawa, Regina, Sudbury, Vernon, Warman and Winnipeg.
We are hoping to run them as "normally" as possible while following all of the provincial health guidelines.
We are developing a new and improved curriculum that will allow each athlete to grow and become a stronger ringette player.

This program will allow for lots of ice time, learning strategic play and focussing on some individual skill development (like shooting accuracy). 
We will be releasing more details early January.  If you haven't followed us on Facebook or Instagram please do, as this is the quickest way to receive updates on our summer camp plans.
We wish everyone a safe and happy end to 2020!
Aug 27, 2020 – AT HOME Video #3
Quick feet and more fun shooting drills!
Aug 14, 2020 – AT HOME Video #2
Footwork and Shooting In Motion

July 20, 2020 – AT HOME Videos
We are excited to be working with The Training Foundation to provide three skill session videos for their Training program participants to take part in.  It's not too late to register for the training program.  If you are interested please contact AJ Fystro at ajfystro@gmail.com and tell him that NRS referred you.
Here's the link to our first ever Instructional video: Shooting Session
We would love to see you and your shots!  Please feel free to share on Facebook or Instagram and tag us!
June 10, 2020 – Update
Dear Ringette Families,
We hope you are able to be outside taking advantage of warmer summer weather.
Like many of you, we have been following the progress each province has made in dealing with the COVID-19 pandemic and we have been familiarizing ourselves with their reopening strategies.  We are encouraged to see that some provinces are in a position to start allowing more physical activity by opening more facilities.  We hope the facilities and operators are able to do so in a way that keeps everyone safe.
So what does this mean for us and running ringette camps in July and August 2020?  Unfortunately, we are not in a position to re-open registration at this time.  This decision is made with three things in mind: the health and safety of our instructors, your children and your families; the uncertainty of whether there will be resurgence in COVID-19 cases that would close down provinces again; and the financial risk that re-opening registration poses to us as a business.  Our initial cancellation of Summer 2020 camps in April came with a significant financial loss and doing so again would be quite detrimental to our small business.   
As Alberta is implementing Stage 2 beginning June 12th in Alberta, provincial authorities have provided guidelines on operating day camps. Please go to the following link for full details: https://www.alberta.ca/assets/documents/covid-19-relaunch-guidance-day-camps.pdf.  As you can see, the long list of requirements and restrictions would render it very difficult to run a full-day ringette camp that would be comparable to the top quality product we've provided in the past.
Lastly, we are also considering the decisions by Ringette Canada and provincial ringette associations, as many of the risks and liabilities that they face are similar to those that we encounter when running camps.  The bottom line is: we need to feel comfortable with regards to the responsibility of preventing COVID-19 transmission between children and families in a ringette environment.  We aren't there yet.   We will be continuing to monitor the progress made in each province and if Stage 3 is implemented before the end of the summer, we may yet be back at the rink together.  
In the meantime, we are working on some fun at home ringette activities that we will be sending out at the start of July.  Something to keep us connected during this time of separation.
We hope that we will see you back in the arenas for camp during Winter break and in the summer of 2021.
Thank you for your patience and interest in our camps.
Stay safe and healthy!
The NRS Team
May 4, 2020 – Refunds Update
Thank you for your patience.  We have processed all of the refunds for every participant that was registered for a camp or program this summer. 
The refund should appear on your credit card statement this week.  If you purchased your camp using one credit card number and have a new credit card number, the refund should still appear on your credit card statement.  The credit card companies typically link these accounts. 
If you paid for your registration by using the payment plan option, the refund will reflect these same payments (i.e. if you made 2 out of 3 payments, then you will receive 2 separate refunds and the third payment has been cancelled).
If you do not receive your fees by the end of this week please email us at questions@nationalringetteschool.com.  
April 27, 2020 – Camps Update
We are all living in the shadow of the COVID-19 pandemic. It has created tremendous uncertainty for all Canadians, including concerns for our health and safety as well as for our economic security.
In trying to plan for our 2020 National Ringette School summer camps we have been following the news carefully and have consulted with a number of others
On Thursday, April 23rd, 2020, Alberta's Chief Medical Officer, Dr. Hinshaw, announced that the orders in place prohibiting gatherings of 15 or more people would continue throughout the summer. She explained that this would be reassessed in the fall. This order also requires that people gathered in groups of fewer than 15 to maintain a distance of two metres from one another. The result is the automatic cancellation of all one-time or annual summer events in Alberta, including our summer ringette camps.
If you have been to one of our ringette camps you know that it is exactly the opposite of social distancing – it is a celebration of coming together for a week of shared excitement. It is playing and learning closely together both on and off the ice and it is the sharing of hugs and laughs with both new and old friends. That closeness is what makes ringette and ringette camp special.
While there may be differences across Canada as to when some of the restrictions on activities happen, it seems clear that any relaxing of those restrictions will not occur until late spring or summer. At that time there will likely be a gradual lifting of those restrictions. Things done for fun and entertainment – like recreation and attending a summer camp – will likely be toward the end of the list when it comes time to relax the social distancing rules.
With this in mind have decided that we will not be proceeding with the operation of our camps for July and August 2020. This is by far one of the most difficult decisions we have ever made. We realize that this will likely cause sadness and frustration in your households, as it does in ours. We do however feel that it is the right decision to make in order to ensure that we do all that we can to protect the health and safety of our participants and their families, as well as the health and safety of our staff and their families.
For the parents that have already registered for a 2020 Summer Camps, we are working through issuing complete refunds of fees paid.  You will receive an email confirmation once your refund has been processed.
Follow along with us this summer for some activities like: instructor challenges, practicing your off-ice shot, strategy chalk talk, fun fitness with your family and much more. Follow us on Facebook (@ringetteschool) or Instagram (@nationalringetteschool).
We truly appreciate your understanding while we work through this time of uncertainty together.
Stay safe and healthy.
Danielle Hargreaves and Murray Pettem
The NRS Team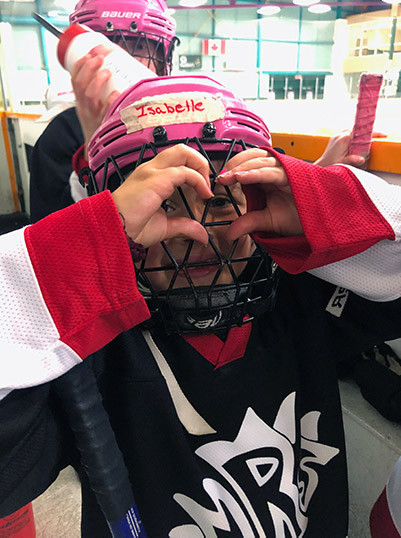 While we are sad right now, we know that being apart will make being together again in 2021 even sweeter! Stay safe, healthy and active while you are at home. 
In 2021, our week long ringette camps will take place between July and August and accommodate young athletes of all ages and abilities.
Athletes who attend a National Ringette School camp learn to:
skate faster
dominate the ring
make smarter passes
score more goals
stonewall forwards
remain calm and confident under pressure
and be an aggressive player
"This camp taught her so much and she enjoyed every minute of it. A girl who normally sleeps in on weekends was up before me ready to go"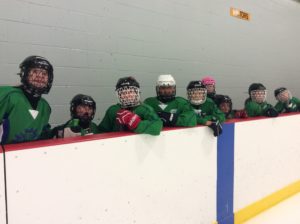 "Thanks for another great camp. Our daughter says this is the highlight of her summer. The instructors are awesome!"