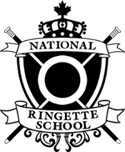 Instructors: teachers, nurses, post-secondary students…
The National Ringette School is very proud of the team we have built.  Many of our instructors are Provincial and National Champions, Canada Winter Games competitors and World Ringette Championship medallists.  Many play high level U19 and Open ringette for their associations AA or A teams, National Ringette League teams and post-seconday teams.
Whether hard working students or accredited professionals, our instructors are terrific role models.   They demonstrate very capably how the skills that are learned on the ice translate into real world success.