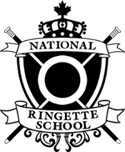 Founded on our love of the game!
The National Ringette School was developed by two people with an infectious love for Ringette: Murray Pettem and Danielle Hargreaves.
Their ambition: to challenge athletes to reach their individual potential while fostering a positive and enjoyable environment in which to do so.
Each year the National Ringette School teaches even more athletes about the sport we love so much: Ringette!