Come join the University of Calgary Dinos Ringette team for two amazing days of ringette.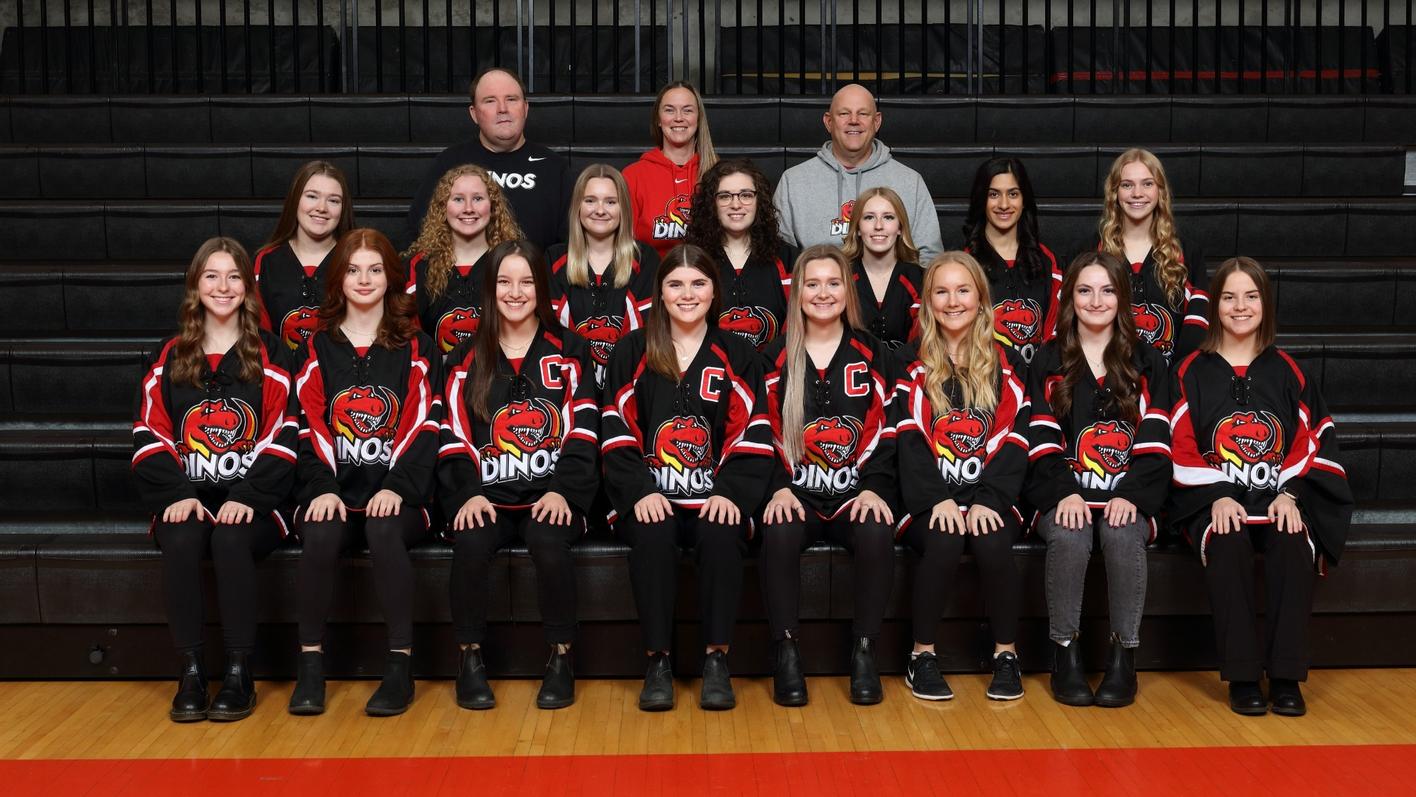 This event is a fundraiser for the Dinos Ringette team as they will be travelling to the University Challenge Cup in Ottawa to compete amongst many other universities for the Championship title.  These amazing student-athletes also participate in the Calgary Open Ringette League, fitness sessions, tournaments and Provincials.  As they do not yet have Varsity status the athletes incur these costs personally. Help them offset some of these costs in their quest for success!
Learn more about their great program here.
Wednesday, Jan 3rd and Thursday, Jan 4th, 2024 at the Olympic Oval
We are offering two groups: U10-1 and U10-2; and U10-3 and U12 (based on where they are currently registered).
2 full days: 8:30am to 4:30pm
5 ice sessions over two days!
$200+taxes per player – Goalies register for half price.
Please take a minute to read the policies listed below.
The following policies apply to Winter Camp with the Dinos:
The National Ringette School is fully committed to supporting a safe, inclusive, and fun community for all participants, parents, and staff. We firmly stand against harassment and discrimination of any kind. Unfortunately, we know that harassment and discrimination can occur in spit of our best efforts.  Therefore, we ask for our community to commit to a "speak up" culture – encourage speaking up and raising concerns if anyone hears or witnesses inappropriate conduct. Commit to listening and supporting concerns.  Reach out to our Site Manager or contact our office, 403-284-5161, to voice your concerns.
Bullying Policy
At NRS , bullying is inexcusable, and we have a firm policy against all types of bullying. Each participant is expected to treat all other participants with respect, and to help each other achieve the best possible experience.
If a participant has difficulty meeting this expectation, parents may be called upon to assist. Our instructors aim to address all incidents of bullying, however it is important to note that they cannot hear or see everything at all times.  Therefore, it is imperative for parents to promote communication with the staff and their child. We work together as a team to ensure that everyone leaves camp with a positive experience.
Behaviour Guidelines
Please read our behaviour policy with your child before camp.
We expect participants to act respectfully at all times when they are participating in our camps. Participants are to behave in a mature, responsible way and respect the rights and dignity of others.
Participants will take responsibility for their actions.
Participants will respect themselves, each other, camp equipment and the staff
Honesty will be the basis for all relationships and
Participants will be kind towards each other.
Participants should talk to any instructor or staff member if they are uncomfortable with any experiences or need assistance while at camp.
Discipline Procedures
When a participant does not follow the behaviour guidelines, we will take the following action steps as behaviour problems progress.
Staff will name the inappropriate behaviour and redirect the participant to more appropriate behaviour.
If inappropriate behaviour continues, the participant will be reminded of behaviour guidelines and camp rules, and the participant will be asked to decide on action steps to correct their behaviour.
If a participants' behaviour continues, parents will be notified to discuss next steps.
If inappropriate behaviour continues, as a final action step the participant will be dismissed from camp.
Examples of unacceptable behaviour:
Refusing to follow behaviour guidelines or camp rules
Using profanity, vulgarity 
Stealing or damaging property (personal or camp property).
Refusal to participate in activities or cooperate with participants or staff
Disrupting an activity
Leaving a program without permission
Endangering the health and safety of children and/or staff
Teasing, making fun or bullying of other participants or staff
Hitting or Fighting of any kind
Use of illicit drugs, alcohol or tobacco or sexual conduct of any kind
Participant fees are non-refundable if they are sent home for disciplinary reasons. Bullying or physical violence towards any staff or towards another participant will result in immediate dismissal from the camp program for the duration of the summer. All situations are subjective and will be handled accordingly per the Site Manager and Directors' discretion.
Camp Cancellation Policy
The National Ringette School reserves the right to cancel a camp or tournament at anytime.  This includes cancellations due to insufficient participant registration numbers.  If a cancellation occurs you will be contacted via email and fees will be returned (minus the Admin Fee $15) via the same credit card that was used for payment.
Dressing Room Policies
For the daycamps, we staff the female dressing room with a National Ringette School instructor.  Therefore, parents will be asked to remain outside the dressing room and to help with their children's skates outside the dressing room (if they wish to tie their skates).  Participants will be offered assistance in getting ready, however we aim to foster independence with dressing.  We are also focussing on respect for each other and our facilities.  Therefore, if a participant makes a mess of their space they will be asked to clean it up.  Instructors will assist, but the onus is on the participant.
For daycamps, the National Ringette School requires that male parents or guardians remain outside the female dressing rooms at all times, and vice versa.  Female and male participants will be provided with separate dressing rooms.  They are required to use that dressing room  before and after their ice times.
Cell Phones and Cameras
The use of cell phones and cameras in dressing rooms is strictly prohibited.  We encourage athletes to leave such valuables at home.  The National Ringette School and the arena operators will not be responsible for any lost or stolen items.
Fee Policies
Administration Fee ($15):
For our Winter Camp, this fee is a non-refundable fee used to help offset the costs associated with credit card transactions and costs incurred prior to the delivery of the program.  The Administration Fee is applied to each order, not each individual registration.  Therefore, if a family is registering more than one child the fee is only applied once.  In the event of a Participant Initiated Withdrawal or NRS initiated camp cancellation this fee will NOT be refunded.
Daycamp Refund/Cancellation Fees for Participant Initiated Withdrawal:
Prior to December 24th, 2023: $75 cancellation fee per registrant/camp will be retained.  Any additional fees (minus the Administration Fee and Cancellation fee) will be refunded via credit card.
On or after December 24th, 2023: There are no refunds, except for medical reasons*.
*Cancellations Due To Medical Reasons: With an official doctor's certificate a FULL refund will be issued.  If this occurs once camp has begun, we ask you to contact 403-284-5161.
Late Pick-Up Policy
Late Pick-Up Policy: $10/15mins. Payable with cash only upon same day pick-up or next day drop-off. Child will not be permitted to re-join the camp until fee is paid.
Movement Between Groups Policy
Prior to camp…
At times we receive requests to move athletes between groups. This may or may not be possible.  If you have questions in this regard please contact us at questions@nationalringetteschool.com or 403-284-5161.
Once camp has begun…
Prior to your child participating with their group, if you would like your child moved, we ask that you communicate directly with the Site Manager.    The Site Manager will be able to assess the situation and discuss with you the best option.  The final decision rests with the Site Manager.
Photographs and Videos
The National Ringette School may take photos and/or video during the daycamps and tournaments.  Please be advised that your child's photo may appear on promotional materials and on our website as well as in our camp photos posted at the end of the summer.  
If you have any concerns please call our office at 403-284-5161 to discuss.