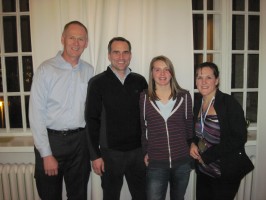 The Ringette Store and The National Ringette School are announce our Win A Trip to Finland winners:
Brynn and Gordon Tarnowsky, from Calgary, Alberta.
Brynn and Gordon attended the 2010 World Ringette Championships in Tampere Finland. They cheered on Team Canada as they took home the silver medal.
Pictured here at the World Championships closing ceremonies are (from L to R): Murray Pettem (NRS owner), Gordon Tarnowsky, Brynn Tarnowsky and Jody Nouwen (NRS owner).
Thank you to all those that entered the contest.
We wish you and your teams a successful, fun-filled ringette season!