FCA Holiday Camp

Thursday, Jan 2nd & Friday, Jan 3rd, 2020
Flames Community Arenas | 2390 47 Ave SW, Calgary, AB
Early Bird Rate of $149/participant till November 15th, 2019.
Regular rate of $199 as of November 16th, 2019.
Please read the National Ringette School terms and conditions before registering.
Ice Schedule: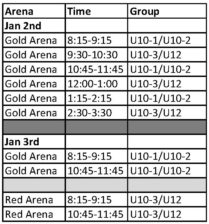 Remember to bring your full equipment, including jersey, water bottle, sharp skates and stick!
Also remember to bring NUT free snacks and lunch, plus running shoes and athletic clothing.
Please DO NOT bring any valuables such as cameras, phones, etc.
Contact us at 403-284-5161 or questions@nationalringetteschool.com with any questions.
See you on Thursday, January 2nd!
The NRS Team
---
* Our intention is to have the groups based on these age divisions.  Depending on the ages of those who register, we may use our discretion to further refine groupings. We appreciate that in some associations your child's placement on a team for the season may not completely correspond to our age groupings.  If this is the case and you are uncertain as to which group your child should be registered in please contact our office, 403-284-5161.
Got questions? Get answers!
Email questions@nationalringetteschool.com or call 403-284-5161
We accept




Fees in Canadian dollars subject
to provincial and federal sales tax
& a $50 non-refundable deposit.